Official Movie Trailer: Mad Max: Fury Road
Rate: 9/10
This film was directed by George Miller. One of his best movies is "Happy Feet". Anyhow, Max Rockatansky (Tom Hardy), a survivor, is captured by the War Boys, the army of the tyrannical Immortan Joe, and taken to Joe's Citadel. And he believes that the best way to survive is to wander alone. Nevertheless, he becomes swept up with a group fleeing across the Wasteland in a War Rig driven by an elite Imperator, Furiosa (Charlize Theron), one of my favorite movie actresses. I heard that Victoria secret model was included in this film too!
Official Movie Trailer: Ant-Man
Rate: 9.2/10
American superhero film based on the Marvel Comics characters of the same name: Scott Lang (Paul Rudd ) and Hank Pym (Michael Douglas). The film was directed by Peyton Reed. This film is really awesome and one of the best movies I've seen. Hank Pym resigns from S.H.I.E.L.D. after discovering their attempt to replicate his Ant-Man shrinking technology. Against seemingly insurmountable obstacles, Pym and Lang must plan and pull off a heist that will save the world.
Tomorrowland
Official Movie Trailer: Tomorrowland
Rate: 9/10
George Clooney! "Tomorrowland" has many uncanny dream-logic moments. They make the film worth seeing, even though it's better as an experience than as a story or a message, yet wants to be all three at once. You should watch this film!
Official Movie Trailer: Furious 7
Rate: 9.5/10
This film is directed by James Wan. Remember Insidious, Saw, and Conjuring? Those were his pieces. Honestly, I didn't watch all Furious series. I only watched this one because of Paul Walker. Power struggle between terrorist and the United States government. Overall, you will be satisfied with this film.
Official Movie Trailer: Terminator Genisys
Rate: 9.1/10
Starring the big guy, Arnold Schwarzenegger. There were unexpected scenes and I'm not gonna tell you! LOL. With dangerous new enemies and an unexpected new mission: To reset the future by launching a final offensive against Skynet, an artificial general intelligence system seeking to eliminate the human race.
Mission: Impossible Rogue Nation
Official Movie Trailer: Mission: Impossible Rogue Nation
Rate: 9.1/10
An American action spy film co-written and directed by Christopher McQuarrie. CIA chief Hunley (Baldwin) convinces a Senate committee to disband the Impossible Mission Force, of which Ethan Hunt (Tom Cruise) is a key member. There were many cool moves and tricks from Tom.
The Maze Runner: The Scorch Trials
Official Movie Trailer: Maze Runner: The Scorch Trials
Rate: 8.8/10
Ofcourse I watched this film because of Ki Hong Lee. He is a hot runner. 🙂 Anyhow, Thomas (Dylan O'Brien) and his fellow Gladers face their greatest challenge yet: searching for clues about the mysterious and powerful organization known as WCKD. I only rate 8.8 because it ended in suspense or should I say "cliffhanger" movie.
Official Movie Trailer: Jupiter Ascending
Rate: 9.2/10
Film written, produced, and directed by The Wachowskis. Starring Mila Kunis, Channing Tatum. Jupiter Jones (Kunis) was born under a night sky, with signs predicting that she was destined for great things. Tatum, an ex-military hunter, arrives on Earth to track Jupiter down and begin to glimpse the fate that has been waiting for her all along.
The Divergent Series: Insurgent
Official Movie Trailer: Divergent Series: Insurgent
Rate: 8.9/10
Insurgent raises the stakes for Tris as she searches for allies. Tris (Woodley) and Four (James) are now fugitives on the run, hunted by Jeanine (Winslet), the leader of the power-hungry Erudite elite. This movie was fine but I think I was just expecting too much. Overall, it's good!
Official Movie Trailer: American Ultra
Rate: 9/10
Ofcourse, who wouldn't like Kristen Stewart movies plus Jesse Eisenberg? The story revolves around a stoner – who is in fact a government agent – is marked as a liability and targeted for extermination. But he became skilled and powerful and makes them too high to handle.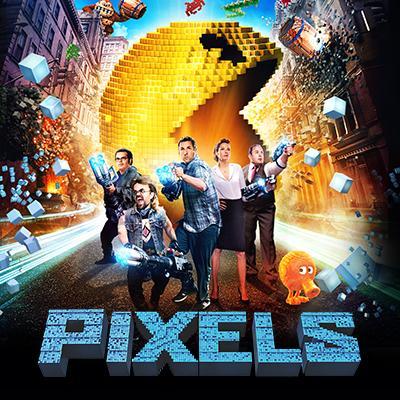 Official Movie Trailer: Pixels
Rate: 9/10
President Will Cooper (James) has to call on his childhood best friend, '80s video game champion Sam Brenner (Adam Sandler), now a home theater installer, to lead a team of old-school arcaders (Dinklage and Gad) to defeat the aliens and save the planet. This movie was actually good with funny scenes.
Official Movie Trailer: The Last Witch Hunter
Rate: 9.1/10
Directed by Breck Eisner. Starring Vin Diesel, a witch-hunter who was cursed with eternal life in the Middle Ages by the Witch Queen (Julie Engelbrecht). Kaulder is the only one of his kind remaining, and has spent centuries hunting down rogue witches, all the while yearning for his long-lost loved ones. Spoiler incoming! I think the film ends with a faint sound of the heartbeat of the Witch Queen, heard within Kaulder's weapon stash in his apartment.
Official Movie Trailer: Hot Pursuit
Rate: 9/10
Rose Cooper is a Police Department officer whose work ethic is too intense. Cooper's name has become a verb synonymous with screw-ups. She tries to protect the outgoing widow of a drug boss as they race through Texas pursued by crooked cops and murderous gunmen. I just noticed that Sofía Vergara looks really the same with Miss Columbia in Miss Universe 2015. Right?
Official Movie Trailer: Taken 3
Rate: 9.2/10
A Liam Neeson movie! One of my favorite actors. Her (Kim) daughter is very lucky to have a father like him. I think everyone already saw this movie and I don't need to explain why you need to watch this film. If you did not, then watch it now!
Official Movie Trailer: Attack on Titan
Rate: 9.3/10
This movie is a little bit disgusting, I tell you, this is a super bloody movie. BUT! I enjoyed it a lot. It all started after the wall which protects their hometown of Shinganshina is breached by the Colossal Titan leading the other Titans to enter, the main character (Eren) watches in horror as one of them eats his mother. Almost the end of the movie, I thought Eren died but I was not expecting to be that way. Good twist! And for Mikasa, I heard that she's dating G-dragon. She's cute. Overall, this movie is superb!
Official Movie Trailer: Point Break
Rate: 9.5/10
Directed by Ericson Core. One of the best films I've watched. The film is replete with the most daring athleticism ever seen in a motion picture. Extreme sport athlete Johnny Utah and his friend Jeff are traversing a steep ridgeline on motorbikes. As far as I know, their action adventure feats are performed by extreme athletes representing the world's best in class in big-wave surfing, wingsuit flying, sheer-face snowboarding, free rock climbing, and high-speed motorcycling. This movie is worth to watch!